Capabilities
We produce:

Gray Iron Castings: Class 30, 35 and 40.

Ductile Iron Castings: 65-45-12, 60-40-18, 80-55-06 and 100-70-03.

ADI, Low Temperature Ductile

Gray Iron from 100 to 4,500 lbs.

Ductile Iron from 100 to 2,500 lbs.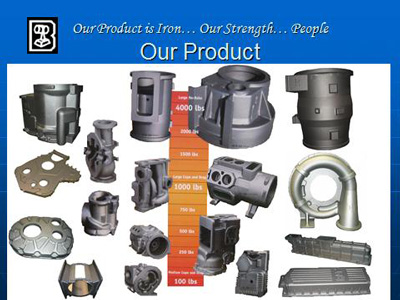 Casting Weights (enlarge image)
Flask Sizes:
Green Sand: Cope and Drag Jolt Squeeze - 24 x 36 up to 36 x 62 inches. (Designed to fit your product.)

No Bake: All flasks are custom designed with sizes up to 80 x 80 inches.
Melt Capacity of our Cupola and Electric Furnaces:
Gray Iron: 130 tons/daily

Ductile: 35 tons/daily (with room for expansion)
Our 135,000-sq.-ft. facility includes :
Cupola and Electric Melt
40 Ton Holding Furnace
3 Green Sand Molding Lines
2 No Bake Lines Ð large cast
3 No Bake Core Make Lines
Automated Process Control Techniques
Extensive Handling Equipment
Sand Lab
Metrology
Pattern Shop
Cleaning
Value Added Services
Badger maintains a high quality supplier base to accommodate Tier 1 functions. Supplier Approval Process, detailed specifications, financial strength and dedicated working relationships are some of the critical aspects of Tier 1. Primary Tier 1 activities are Paint, Heat Treat, Machining and assembly.